Twitter roundup: To be a bird in a pile of mangoes, only perceived as fruit
Skeleton friends, TRANS RIGHTS, don't sleep on Jane Fonda, and how to cope with long-term crises from an expert.
This week I'm still recovering from having my mind blown by Robin Wall Kimmerer's Braiding Sweetgrass, especially the chapter about her relationship with language. And then within a matter of days the episode of Golden Girls we were watching rhymed "Miami" with "salami" in a musical number and it turned into more of a whiplash situation at that point.
I'm also reading loving friend-of-a-friend Jen Clark's newsletter Gun Street Eats, which focuses on Jen's divine home cooking, food culture, and breathtaking prose about the world. Would highly recommend!
My pal Gumby (Jenna to the rest of the world) and I were talking today about some great Gothic horror reads to spice up the season, spurred on by the bat research wormhole from my most recent article. On the docket will likely be The Monk by Matthew Gregory Lewis, The Last Man by Mary Shelley, and perhaps Joseph Sheridan Le Fanu's Carmilla.
On Thursday I cooked a version of this caramelized cabbage recipe*, but used Brussels sprouts, lots of cayenne, and one enormous leek instead of a whole cabbage. Highly recommend! I would post a photo but I spent the prep and cooking time hanging with Fran over FaceTime, and that was way better than any food photography could ever be.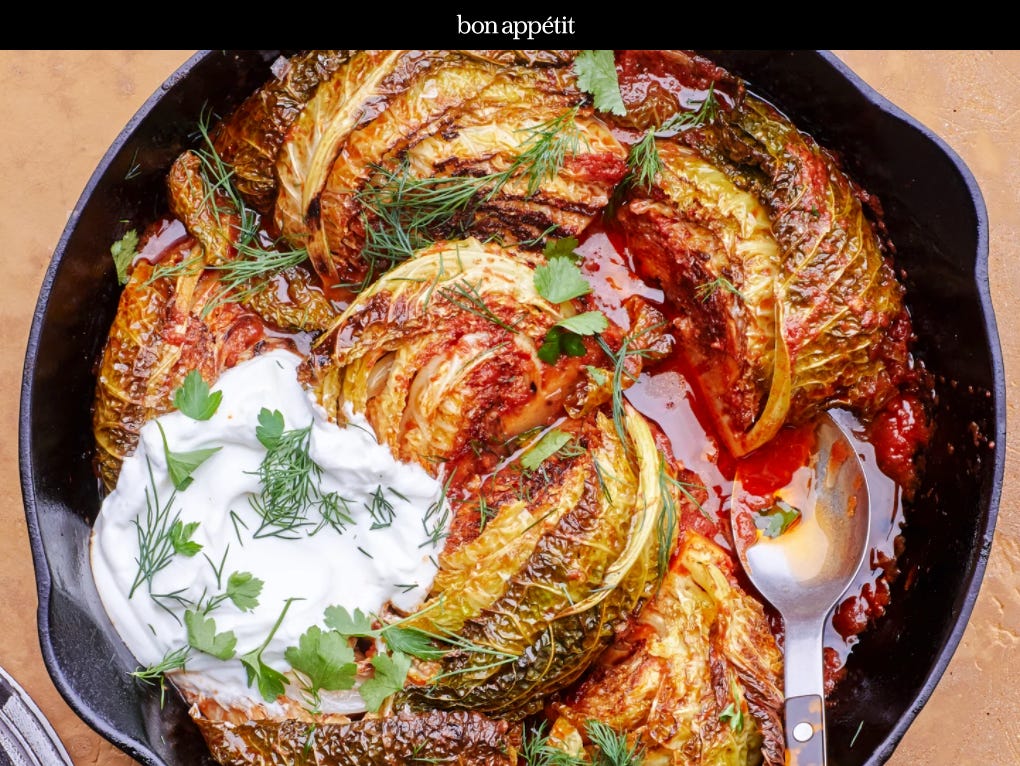 *I love this dish but I do not condone Bon Appétit/Condé Nast's treatment of their non-white staff through wage discrimination and racist hiring practices. Good thing I memorized the recipe!
---
There would be something so peaceful about the anonymity of sharing a likeness with fruit. Just floating amongst a pile of it, observing, invisible, having a snack if you want...
When you see it!
It really strikes a particular mood, doesn't it? Tibia kid again.
Anything food can be fancy when you give it an Italian name. This was a Sloppy Giuseppe.
Dr. Ahmad works in disaster zones.
I'm definitely feeling a certain type of way about the transition to fall and winter, knowing the pandemic is only further ramping up in many regions. Less sunlight, fewer opportunities to spend time outside, and tight social bubbles are the reality, but there's a sense of time just barreling along without me as I sit with my morning coffee.
The creativity that allowed us to adapt to the new reality in March and April is our ticket to breaking through what Dr. Ahmad calls the "six month wall" here in September. It's normal to wish that it would end or to want to run away.
Her advice is to first, cut ourselves some slack. We've done some real brain gymnastics to get ourselves this far while maintaining momentum and caring for our mental health. Then, she says, don't try to force the breakthrough this time. In fact, cutting back and doing things that nurture
The New York Times published something good! The Black Girl Hockey Club is pushing for more Black voices in hockey culture, from fans to front offices.
Jane Fonda has always been cool and good!!!!! Never forget!!!
This week in JD Teaches Us About Science, the Earth's gravitational force is different depending on where you are! The second and third tweets in the thread are just as :o
It's been said by members of the trans community for years and years, I will repeat it again for you now: casting cis actors to play trans women is dangerous. Everyone involved in these choices directly contributes to the overwhelmingly inflated rates of violence against trans women around the world because it perpetuates the idea that trans women are just men in disguise. This is not the case. Jen Richards lays it out plainly in this clip from the Netflix documentary Disclosure.
While we're on the topic of trans rights (!!!!!) and media, go watch Derry Girls. If not for Nicola Coughlan's performance as Clare, then for her stalwart commitment to her moral compass on the internet hellscape.
And for your cry today, here's Dee Gordon, famed non-home run hitter, hitting a home run in his first at-bat in 2016 following the death of his teammate, José Fernández. Gordon wore his buddy's batting helmet for this at-bat and cried as he rounded the bases, and even more when he rejoined his teammates in the dugout. Hooooooo boy. Gets me every time.
And to even out the vibes, here's a possum eating a squash. What a magnificent mönch.
Stay cool, nerds!