Can living things survive in space?
Early space exploration antics, walking barefoot on the moon, and organisms that can survive space. Plus, breaking the talk show mold with possible extraterrestrial fungi. Pressure suits on!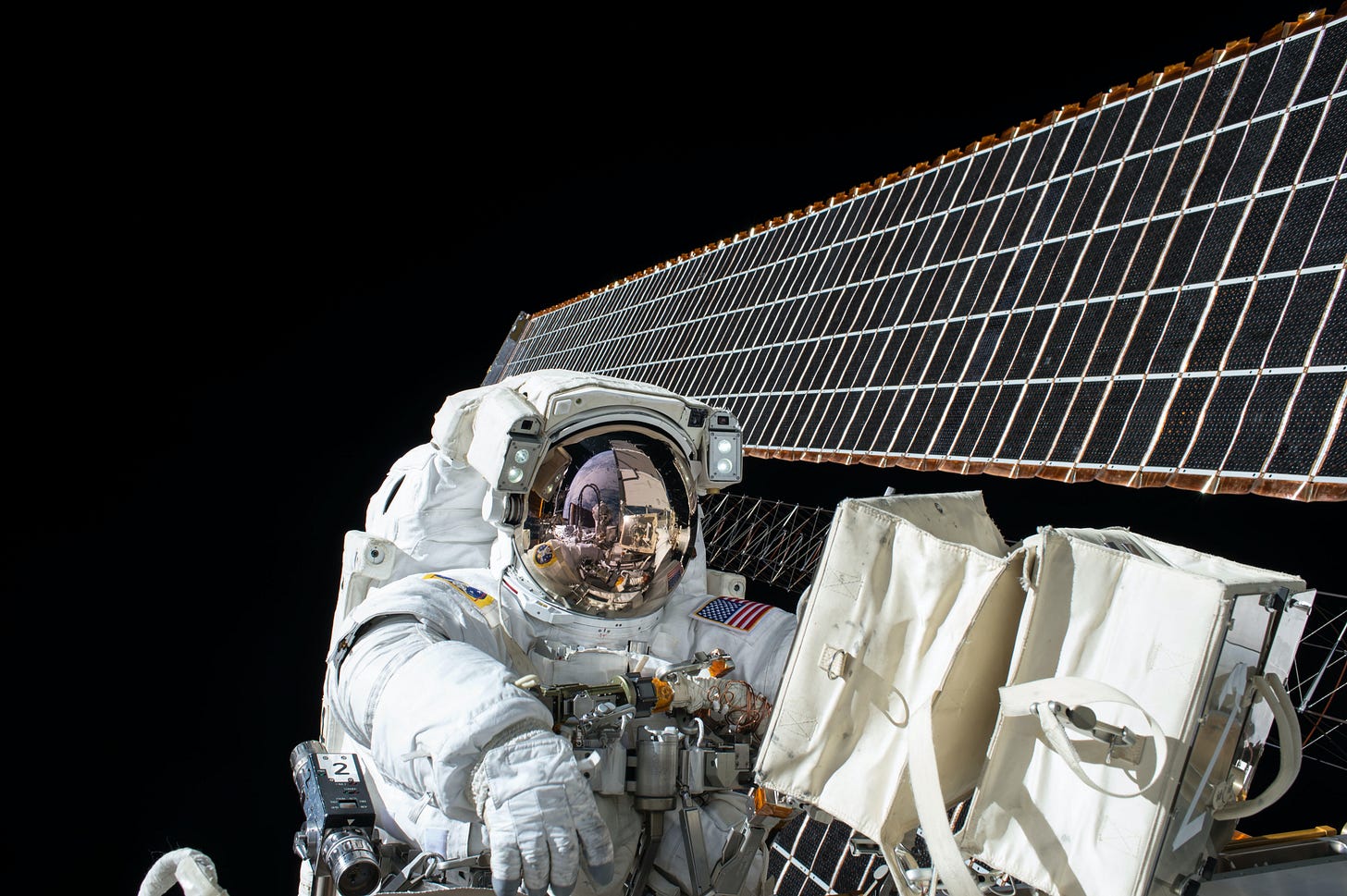 With our delicate meat sacks already in a fine balance here on earth, we're not great options to send into the vast blackness of space where there's no protection from the (lack of) elements.
Radiation blasts from every direction, gamma rays are a thing, space junk whips around with reckless abandon, and the threat of depressurization looms large over astronauts just trying to do their thing up there. The solar panel isn't gonna fix itself, you know. And it can't get done without serious consideration for every seal and battery on a spacesuit, much less the regular functioning of each space station module.
Since humans can't survive without the help of technology in many regions here on Earth, it tracks that our resilience as a species would be tested outside the relative safety of the earth's atmosphere. Has a human felt the vacuum of space and lived to tell the tale? Are there more hardy species from our home planet that are capable of life in the void? What's the most lichen-ly (sorry) candidate for extraterrestrial life?
Thanks for hanging in there this week, peeps! I started working with an agency a few days a week and it's really eating into my internet wormhole time. NO COMPLAINTS, but you know, it's good for the eyeballs to take a break after a heavy screen day. (Have you taken a break recently? Take a break after this.)
To my newest Amateurs, welcome! If you're here because someone sent this to you, tell them I appreciate them. Use the button below to subscribe to show you support - there are suuuuper reasonable paid options (so I can pay my bills doing what I love!) and free access for peeps who need it. Thanks, nerds!
Blast off!
---
I recently read Packing for Mars: The Curious Science of Life in the Void by Mary Roach (so funny and well-researched, as is all of her work) and in it she discusses the experience of U.S. Air Force Col. Joe Kittinger while he endured the near vacuum of space.
In a high-altitude space jump designed to assess new spaceflight equipment, test pilot Kittinger ascended to an altitude of over 100,000 feet (30,000m) - the outer reaches of the atmosphere. He sat in a gondola, though it looked more like a space-age lawn chair, and an enormous helium balloon lifted him to the edge of space with nothing between him and the abyss but a small platform.
Amidst the newness of it all and unbeknownst to the flight crew below, the pressurized seal around Kittinger's right glove had a leak. He opted not to report the equipment malfunction because, you know how aeronauts are, he wanted to see the jump through rather than abort. And that's exactly what he did.
Higher and higher he rose, and by the apex of his journey at 102,800 feet (31,333m) the air pressure had plunged to just 1.3% of sea level…levels. Kittinger lost the use of his hand and fingers up there; he reported feeling intense pain, then numbness, and it turns out it had bruised badly and expanded to over twice its normal size.
Kittinger and his large, purple hand made it back down only a little worse for wear. According to his own memoir, Colonel K claims his hand returned to its normal size within a few hours and full functionality returned not long after.
---
Check out the official Air Force footage from the whole series of jumps below. You can see the kind of bulky pressure suits that were in use at the beginning of the human spaceflight program; they're nearly impossible to stand up in, much less manoeuvre. Kittinger and the Project Excelsior crew actually ended up deciding on free falling face-up because the stiff and bulky suit confined him to a sitting position. Footage shows him stepping out of the gondola and falling on his back, arms and legs flailing like bad green screen special effects or an overturned beetle. Compared to the controlled face-down diving position of modern skydiving, the early days of high-altitude jumps look chaotic and truly death defying.
Kittinger steps off the gondola at about 2:10 (cw: falling from great heights).
---
So knowing that a hand can survive in a near vacuum for upwards of two hours with no lasting damage, my spidey senses are tingling as to what the limits could be for the rest of the human body. The answer is still no on the long-term viability of vacuum living, obviously, but there's evidence to suggest that a person would last a little longer than we're led to believe.
Randall Munroe, the former NASA engineer, creator of webcomic xkcd, and author of What If?: Serious Scientific Answers to Absurd Hypothetical Questions, wrote a piece for the New York Times about what would happen if someone actually touched the moon without a glove or boot.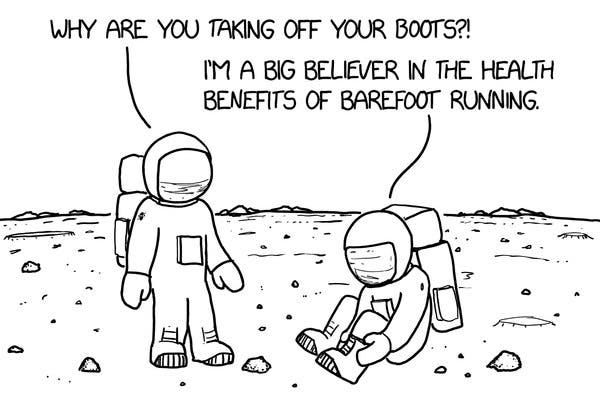 He confirms why Col. Kittinger's hand survived his ordeal, and offers even more evidence to support my suspicion that there's more time for un-pressure-suited humans play with out there:
[R]emoving a glove wouldn't necessarily be instantly fatal. For the most part, human skin is tough enough to handle brief exposure to a vacuum. If you had a custom spacesuit with a seal around your forearm, you could probably remove your glove during a moonwalk without suffering permanent damage.
Dr. Paul Sutter, host of the Ask a Spaceman podcast and research fellow at the Astronomical Observatory of Trieste, has a pretty thorough rundown of what else is briefly survivable for humans and what's not. It doesn't paint a hopeful picture.
Dr. Sutter says our skin is juuuust stretchy enough to maintain blood pressure and keep our insides on the inside for a little bit, potentially a few minutes, maybe more, and the lack of matter present to conduct and convect heat around the body prevents immediate flash freezing. But just the immediate. Complete popsicling is inevitable in the void. This is where the concept of a lack of temperature comes in. Brrrrr.
That's the good news (I guess). The bad news is that everything else that makes space so volatile happens pretty quickly. Any air left in the lungs will try to escape by any means, then there's none to replace it. Ebullism, the conversion of liquid to gas at low air pressure (like boiling but worse!), begins to affect the brain, circulatory system, and respiratory tract. After about two minutes, organs can't function any longer without oxygen and that's that. A radiation-toasted sky popsicle in the time it takes to pop a bag of popcorn. Not an ideal situation.
Munroe continues, though. On the surface of the moon, temperatures can fall well below the coldest recorded levels on Earth and easily exceed the hottest. What surprised me the most about moonwalking (other than how thrilling it is, sorry again), is if you wanted to feel moon dust between your toes on the banks of the Sea of Tranquility, heat and cold wouldn't get in your way.
Surprisingly, the temperature of the dust would not be a huge danger to your [feet]. Lunar dust is a great insulator — it's full of hollows and crevices, and the lack of air prevents heat from flowing from one part of the soil to another (or to your skin).

Based on measurements of the lunar soil and NASA guidelines on skin contact with hot objects, you would probably be able to press a bare [foot] against the hottest lunar soil without feeling uncomfortably warm.
The downside is that there's too little atmosphere on the moon to erode the rocks, minerals and glasses that cover the surface. Just like sand on Earth, lunar soil is loose, but instead of the powdery soft sand of our imaginations it's grains of jagged and razor-sharp moon rock waiting to slice and dice the tootsies. No thanks. Not on top of all the swelling and bruising when the boots come off.
If barefoot moonwalking was a dream of yours, sorry to ruin it. May I suggest a blow-up pool and a pile of sand? That's what imaginations are for!
---
Beyond most known plants and animals and their unfortunate predisposition to death in the void, there are living things in our current world that can survive out there.
These critters don't need oxygen, and they can hang with radiation and the endless vacuum. They have evolved to respond to the most extreme conditions in the universe. Say hello to the microscopic galactic superheroes, tardigrades!
Since tardigrades can expel all of the water from their bodies, they can survive for decades in a state that's almost suspended animation, then bounce back when conditions improve. Popular Mechanics has the deets:
Land-dwelling tardigrades have evolved a bizarre solution to living through drought: When their environment dries up, so do they. Tardigrades will enter a state called desiccation, in which they shrivel up, losing all but around 3 percent of their body's water and slowing their metabolism down to an astonishing 0.01 percent of its normal speed. In this [tun] state, the tardigrade just persists, doing nothing, until it's inundated with water again. When that happens, the creature pops back to life like a re-wetted sponge and continues onward as if nothing had happened.
In 2007, a colony of tardigrades hitched a ride into orbit on the outside of a FOTON-M3 rocket and stayed up there for ten days. They were exposed to the full vacuum and radiation of space, plus the full gamut of associated risks to life. By the time they returned to the lab on Earth, 68% of the colony had survived and those survivors went on to successfully procreate.
So theoretically, sending tardigrades into space in their dormant tun state and landing them on another planet could lead to their reanimation and, under the right circumstances, continued life. I'm thinking in the subterranean lakes on Europa, or on the lunar poles of our own moon (where there's water ice!!!!!). If it could happen, these bad boys are contenders.
So what does this mean for us? If humans can replicate cryptobiosis in the way tardigrades do, we'd live far longer than the average life expectancy. According to [tardigrade expert Lukasz] Kaczmarek, when a tardigrade enters the tun state, it doesn't age. It becomes dormant at one month old and can wake up years later and still biologically be the same age.
Especially in the long-distance space travel conversation, developing methods to temporarily suspend both consciousness and the aging process for potential human travellers could have big implications on the next stages of space exploration.
---
[Theme music plays]
[applause]
Host: Welcome to the Mush Room for another edition of Talkin' Fungus!
Today's episode is all about you. Give us a toll-free call and the fun guy panel will try to answer your most pressing microbial questions.
Let's talk fungus! Our first caller is on the line, hello caller.
Caller 1: Hey fun guys! Long time listener, first time caller. My question is, now that we have proof that tardigrades can survive in a vacuum and could procreate in extraterrestrial climates, who else could join the hardy tardies at an interstellar party?
Panelist 1: In a galaxy very, very close close to home, algae and fungi came together to form a mosst [boo] perfect union. Their symbiotic relationship created another bulletproof species that isn't wiped out by space: lichen!
Host: Please welcome to the stage, Lichen Skywalker!
[more boos]
Panelist 2: In 2005, a Soyuz rocket actually took a bucket of lichen up into orbit and exposed it to the void for fifteen days. When it got back to Earth and into the lab, the project's scientists found the lichen to be…totally fine. The DNA showed no damage at all thanks to lichen's mineral coating that shields it from UV radiation.
Panelist 1: Plus, exposure to a vacuum didn't interfere with the lichen's ability to shut it all down and go dormant. It was able to slow its metabolism down, same as tardigrades do, until the conditions were right to boot up again. They'd totally be hanging out with a daiquiri on the rim of Hellas Planitia if they could.
Panelist 2: There's a pretty good argument to be made that panspermia is how the first microscopic lifeforms reached Earth, and that it was similarly indestructible organisms that traveled through space on asteroids and deposited themselves here upon impact, around three billion years ago. With our understanding being what they are, this could be the best hypothesis for the kinds of life that might have existed, or currently exist, elsewhere in the universe.
Host: Wow, a bold proposition from the panel! They are not qualified to be making these kinds of claims. Thanks for your question. Who's next on the line? You're on with the fun guys.
Caller 2: Hey fun guys! What's the difference between stormtroopers having a party and mold trying to grow on the outside of a space station?
[producer silently pleads with the panelists]
Panelist 1: [heavy sigh] I don't know.
Caller 2: One is bad guys having a fun time and the other is -
Panelists 1 and 2: FUNGI HAVING A BAD TIME
Host: Thanks for listening, goodnight!